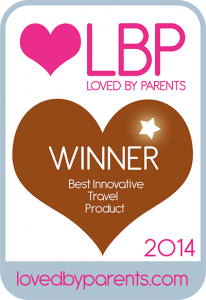 Buggypod Perle
The award-winning Buggypod Perle is a perfectly designed board seat that clips onto your Lascal Buggyboard Maxi or Bugaboo Wheeled Board to give your toddler a smooth ride when they get tired. And all in its own neat, clamshell case which opens up to form the backrest and base of the seat.
When out with friends in a cafe or restaurant just clip Buggypod Perle off the wheeled board and attach it to a dining chair for use as a dining booster seat so your toddler can join in the fun.    This dual function makes it ideal for holiday travel, out and about, or at home.
Your toddler will love the fun and comfort of sitting on the in-built mini gymnastics ball.  Buggypod Perle comes supplied with a silver grey ball.  In future Buggypod Perle can be customised from a selection of mini balls available separately in different colours.
Can be used as a Board Seat* or Booster Seat
Available in three seat designs
Soft and comfortable seat
Stable, sturdy base
Portable with handy carry handle
Suitable from 6 months old
Designed for toddlers as soon as they can sit up unaided and up to 15kg
Easy to fit
Two chair straps for extra security in booster seat mode
Backrest and armrests
5-point safety harness, footrest
As a Board Seat * : compatible with Lascal Buggyboard Maxi and Bugaboo Wheeled Board
As a Booster Seat:  compatible with almost any dining chair
Includes booster seat straps & one silver grey ball
Light and Compact (35.5cm x 35.8cm) and weighs only 1.5kg
Built in suspension
2-click folding action
Easy to manoeuvre
Four non-slip feet
Great alternative to double/triple buggies
Detaches easily for car journeys and storage
Easy to clean
*requires Buggypod Perle Adaptor
Buggypod Perle will be available from November 1, 2014.
Hot off the press! Buggypod Perle has won Bronze for Best Innovative Travel Product in the 2014 Loved by Parents awards!