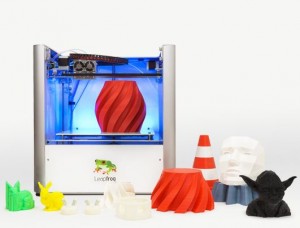 To get an impression if our designs are as functional and nice in real life as they are on our screens, we make use of rapid prototyping technology. We are proud owners of a Creatr 3D printer by Leapfrog.
The printer has dual extruders allowing dual color prints and / or prints made out of 2 different materials.
We use our printer to transform our designs into 3D tangible objects and prototypes.  The printer enables us to show real parts to our customers in an early stage and quickly evaluate and adapt any changes.
Pictures speak more than words, but the actual 3D product says it all !
At this moment we usually print with PLA or ABS material but other materials like PVA or PA are also possible. The materials are available in many different colors, and the possibilities keep on growing.
Come check it out!
Printing opportunities and Services
1.  During Projects: We use the printer during our projects to show designs or parts of our designs as 3D touchable matter.
2.  Print Jobs:   Are you looking for 3D printing capacity? If our printer is not occupied, we can use it also for print jobs for 3rd parties. Please contact us to discuss your wishes, than we can work something out.
3.  File sharing. We love to explore the possibilities of 3D printing and more and more people are discovering this fun tool. Please follow our website or subscribe to our newsletter. We will be posting downloadable 3D print files in this section and in our blog for you to use with your own printer. The prints will be fun items and gadgets that will fit the season. Feel free to download and share! Should you have any fun ideas for printing, just let us know, maybe we can use it for our next download.